Today, the 3rd day of Chinese New Year, me and my friends went bai nian at about 10 houses starting from Wan Jiun's house, then Cikgu Lee, Kevin, Chiou Yann, Me, Alice, Micheal, Siong Kai, Victor, Chin Sue, Joanne, Tay... do I miss out anyone?
There was indeed a big group of us consisting of nearly 30 ppl, let me recall who were they... erm...
1. Wan Jiun
2. Wen Liang
3. Pei Ni
4. Jun Lin (Not Chiung Lin)
5. Alice
6. Lee Sze
7. Kah Yee
8. Ai Ling
9. Melissa
10. Ker Sing
11. Victor
12. Siong Kai
13. Ying Ying
14. Micheal
15. Joanne
16. Maw Jin
17. Lee Ping
18. Sophia
19. Chiou Yann
20. Wen Ting
21. Su Han
22. Hui Xin
23. Nguan Soon
24. Kevin
25. David
26. Chang Ted
27. Tze Teng
28. Pravind
Do I miss out anyone?
Sorry my friends, for not serving most of you properly in my house today, there were just too many of you, and I'm still the same old tzeteng who got embarrassed quite easily in certain social situations, didn't really know how to act like a man with great calmness. Hopefully there is improvement next year. Anyway, today was a great day, I guess most of us really enjoyed ourselves. It was really nice to meet each other again, although we got very tired after visited so many houses.
Set to gather at Wan Jiun's house at 9am, although I was a little bit late (9.45am sth). There were only a few of us driving and initially, Chang Ted (Da Ge) was very worried about the transport. He has always been like a big brother who takes initiative to settle things down.
------------------------------------------------------------
Ted : Teng you got drive?
Teng : No of course, I walked here, u didn't c my shirt kena raindrop meh?
Ted : Shit la, we have so many ppl here, really need more drivers la, if not how can we go bai nian...
(After that he kept worrying non-stop and asking around if there're others driving)
A while later...
Ted : Teng when wanna leave? We at (Cikgu Lee's house) very long oledi, can't let siong kai, tay, lee sze, etc (at WJ's house) wait that long la...
Teng : Nvm la, just let them wait for 1-2 hours.. it's ok one... they got topics to talk mah..
Ted : Not good la really, have to leave faster...
(A while later we left and gathered, went to another house)
------------------------------------------------------------
That's the Chang Ted our big brother of same age, never changed since last time.
We had our perfect CNY lunch thanks to Micheal. Her mum cook us a nice meal :D ... Another significant person today, Siong Kai, who had various CNY quotes in his mind was unstoppably expressing his extraordinary wishes quotes to everyone differently. "Ma Dao Gong Chen", "Sheng Ti Jian Kang" and a lot more that I actually never heard, unlike the rest of us just saying merely the same thing everytime ... "Happy New Year..... happy new year... happy new year.... and yet still happy new year..."
It's really nice to have met Ai Ling and Melissa today, we haven't been meeting each other for more than 2 years. I thought Ai Ling is in China pursuing her study and only today I found out she's in UPM, Selangor, that means still very near to us. As for Melissa, the last time I met her was in her house, during her birthday in year 2004.


Some photos for glance.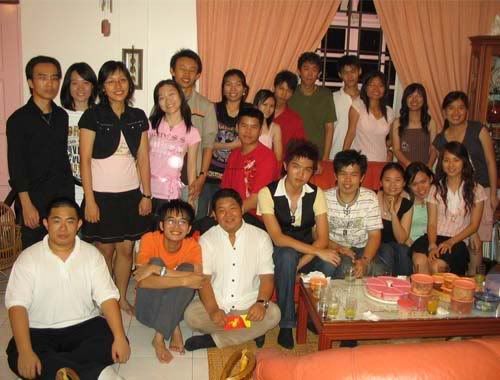 Group photo taken in Tay's house. (Last Stand)




Legally drunk...




Chang Ted, who hasn't been back to kch for some time, was craving for ang paos until he had to take them off the walls.